22.09.16 - Bretonische Brandung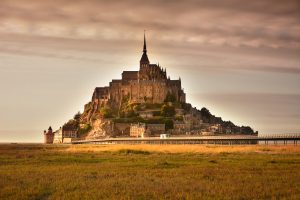 I did not know nothing about Brittany for the longest time. So when I decided to join another photo trip this September, I read the two first books of Jean-Luc Bannalec ("Bretonische Verhältnisse" and "Bretonische Brandung", by mistake in reverse order) and was ready to prove fiction by reality. In fact, we travelled along the North shore and did not cross paths with Commissaire Dupin – but  the photographic playground was big enough to fill a whole week. We stayed in Saint-Malo, Paimpol, and Camaret-sur-Mer and took daytrips from there, often at land's-end-points with dramatic cliffs and lighthouses. Paimpol was especially pretty, and also pretty hot. When we were climbing around the pink rocks in Ploumanac'h, ordinary crowds enjoyed true hot colorful beach life.  But as warm the weather was (at times), nature there is not of gentle character. The sea is rough, the cliffs are rocky, and a soothing breeze can easily become a biting wind. Bretonische Brandung.
Just recently, I read that people who posted rather dark pictures were more inclined to suffer depression. A Harvard study going through instagram pics has come to this scary result. Going through my final choice of pictures for display, I realized I picked more of the dark ones. But it would not be fair to dip the trip in such a light, and of course I don't want to be a "psycherl" – one of my favorite Austrian words for which there is no English translation; but you will know, the prefix says it all. So I added some bright ones, and even some happy shiny apples. The latter, by the way, make for a wonderful Cider; we truly liked the Kerné one.  A recommendation!