Travel
28.11.17 - Rome in June – it was so hot!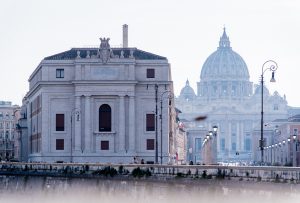 "Really, you have never been to Rome?" – "No." Well… I had spent transit time in Fuimicino and Termini, but never stayed overnight. Somehow sad, given that I realize my growing affection for that country.  In the past 12 months, I have been four times in Italy. On a side note, I believe that Italy gains significance when you get older. When you have done enough to really understand the dolce fa niente. When you have established the right attitude for people watching, and enough money to do this in an appropriate bar with appropriate Sprizz. And then again, you have enough experience to spot the best osteria with simple food and good honest wine.
Back to Rome: When it was time to look out for a new travel destination with Christoph, Claudia and Wolfgang, Rome came into focus. Some of us had been there, some of us had even visited the Pope… but this time, we photography was in focus.
It was incredibly hot! It was only midst of June, but we dealt with temperatures in the high 30s – centigrades. It was even hotter on the bus, and riding it, I felt my body and cognitive abilities went in sauna mode. Hallucinations were not far. The typical tourist sites were overcrowded (Fontana di Trevi, Basilica di San Pietro, Piazza di Spagna). We had not enough energy to be there before 7 am in the morning. Plus, public transport was on strike. So, Rome became a trip not most focused on photography. We took it slow, went for lunch when it was too hot, and had our Sprizz when it just felt right to do so. But we took some pictures! Have a look at them here.
22.09.16 - Bretonische Brandung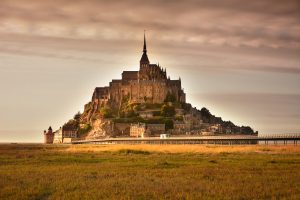 I did not know nothing about Brittany for the longest time. So when I decided to join another photo trip this September, I read the two first books of Jean-Luc Bannalec ("Bretonische Verhältnisse" and "Bretonische Brandung", by mistake in reverse order) and was ready to prove fiction by reality. In fact, we travelled along the North shore and did not cross paths with Commissaire Dupin – but  the photographic playground was big enough to fill a whole week. We stayed in Saint-Malo, Paimpol, and Camaret-sur-Mer and took daytrips from there, often at land's-end-points with dramatic cliffs and lighthouses. Paimpol was especially pretty, and also pretty hot. When we were climbing around the pink rocks in Ploumanac'h, ordinary crowds enjoyed true hot colorful beach life.  But as warm the weather was (at times), nature there is not of gentle character. The sea is rough, the cliffs are rocky, and a soothing breeze can easily become a biting wind. Bretonische Brandung.
Just recently, I read that people who posted rather dark pictures were more inclined to suffer depression. A Harvard study going through instagram pics has come to this scary result. Going through my final choice of pictures for display, I realized I picked more of the dark ones. But it would not be fair to dip the trip in such a light, and of course I don't want to be a "psycherl" – one of my favorite Austrian words for which there is no English translation; but you will know, the prefix says it all. So I added some bright ones, and even some happy shiny apples. The latter, by the way, make for a wonderful Cider; we truly liked the Kerné one.  A recommendation!
05.09.15 - Scotland: Rain, drizzle, and Dalwhinnie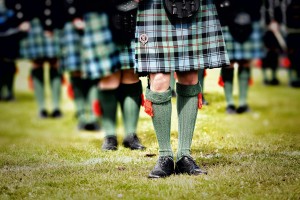 For long, Scotland to me has been the country where George and Gavin have met. The movie "Salt on our skin" of 1992 is one of my favorites, watched countless times, remembered in many quotes, introduced to those I keep close. It holds so many truths about a special kind of love. In real life, I was not very inclined to visit a place that has an average temperature of 18 degrees C in July and is famous for its rain. But some of my friends are real fans of Scotland, and when Rainer Martini offered a trip there, I felt it was time to go.
We had three days in Edinburgh, two in the Highlands. In Edinburgh, we walked the city, strolled along Princes Street (sic! as in Prince's George) and the entire Royal Mile. We took pictures of pretty Victoria street, touched the snout of the famous dog and climbed up Calton Hill for the night picture. Up there is an old temple. People bring their own booze, some smoke pot. When the sun is setting, and the airplanes are lowering for their fly-in, this is a pretty romantic setting. On that very evening we were there, some cover band was playing Lionel Richie. The concert must have been downtown, but the winds delivered the sounds up hill. "All night long" was in my ears when I walked around taking pictures in the light of the setting sun. It was so kitchy, I was torn between denial and the shedding of some senseless tears.
Next: The Highlands, hub: Inverness.  With eight people in two rental cars, we ventured into the wilder part of the journey. It got more hilly, rainy, and cooler. One morning, we had 5 degrees and fog. The Scottish weather really is a challenge. We visited all those nice places in all possible weather conditions: Loch Ness in rain, Dunnottar Castle in drizzle, and the Glenfiddich distillery where it was rather dry – weatherwise. But we had great warm sun, when, in a spontaneous move, we went to see some pretty cool Highland games in Dufftown. That was interesting ethnography! Strong red haired men threw logs ("Caber Toss"), others took part in rope pulling competitions ("Tug O'War"), and kids in Scottish dresses performed their Highland Dancing. The pipes and drums competition with hundreds of bagpipe players in their traditional costumes was my personal favorite, although my ears felt quite dizzy afterwards.
On our drives through the Highlands, we greeted and photographed the Royal squirrels at the Balmoral Estates and counted umpteen dead rabbits on the road. Speaking of dead animals, I must say: I tried Haggis! The scary food that contains a mix of sheep's pluck and oatmeal.  I had it at a special place, the "Café at the Palace", which is Holyrood Palace that is, the residence of the British Queen – when she comes visiting. Haggis is tasty and good for those who walk a lot, i.e. photographers. Also I tried to defeat my angst of whiskey and was convinced that Dalwhinnie is of rather gentle nature and does do no harm to my throat. Nice actually. I might try this again in the future.
We spent the last evening in Inverness. We were too late to have a decent Scottish dinner, and ended up with a Chinese buffet…, but were early enough for a live concert at a bar afterwards, with real (cool!) Scottish music. Of course, it was not Gavin (from the above mentioned movie) singing the "Grrrrreen laurrrel" – but it was as close as it could get. And it was the perfect ending for a nice few days in Scottish summer. Speaking through the Nikon lens, it was not the easiest trip for catching good scenes, preferably in good light, but it was good in general. Here are the memories.
26.05.15 - Beijing revisited. More wonders. On finger nails and public peeing.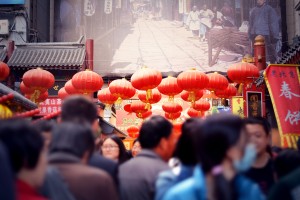 It is weird with China. When I am there, I simply enjoy the so foreign culture. When I leave, I am happy to escape those who spit on the floor, push their way through the waiting lines and have oh so different manners from us Europeans. And when I am back home, I realize the magic of that faraway place.
It has been the second time for me to visit Beijing. In 2013, I taught summer school at UIBE. Now, in April 2015, I was traveling with a delegation of 10 people from of the University of Vienna. We were to give talks about the topic of 'social care'. Chinese university people and ministry officials wanted to know how us Austrians dealt with issues on an aging population, single-children or care for the elderly. During the conference, some Chinese kept talking about Australia instead of Austria, but this is nothing new. Or if it is: "There are not kangaroos in Austria". Come buy the t-shirt at any Vienna tourist kiosk.
We stayed for one whole week. Thanks to my great sleeping pills, I was able to easily adapt to the six hours time difference (never do Asia from Europe without ZOLPIDEM).  And when the jetlag tried to set in, there was coffee, sometimes, accompanied with the still disturbing question: "Hot or cold?" The cold version is that tiny Nescafé can containing awfully sugared factory coffee. It should only be consumed in emergency situations.
Some of my colleagues had never been to China before, and I felt like I could pass on important information. Such as: Don't wait for the rice (because it is always served at the end), bring your own paper for the bathroom (or you are on your own), and use an umbrella even in the lightest rainfall (acid rain, yay).
But with seven more days in Beijing this time, I realized I have not known NOTHING yet. For instance, there was new horror in the toilet: Apparently not every ladies bathroom is outfitted with stall doors. No more details on that one. But I later read that China is aware of the traumatizing effect on Western women and is now regularly organizing the "World Toilet Summit". In 2011, their focus was on the "Launch of International Code Council Guidelines on Public Toilets". That was four years ago. Hurry!
Also, there are these men with an ultra long finger nail on their pinky. Weird! We got aware of them in the subway. Middle aged men in unspectacular clothing. The boring kind. So it cannot be a fashion gag. What was going on? I read the answer in a great book by Kai Strittmatter: "Gebrauchsanweisung für China". He says it is to demonstrate high status: "We are not peasants who would break this nail in hard manual work". Also it would come in handy for the art of nose picking. Oooh, here we go…
It is truly amazing (sometimes entertaining, often frustrating) how little of communication is possible with the Beijing people (people say it is different in Shanghai). Nearly nobody speaks English. And sign-language seems not to work either. Already the Chinese use of fingers to show numbers is different. When you show 7, they just shake their head in disbelief. My favorite however is the trip to the birds market. It took us 1,5 long hours in three cramped subways. When we got to the destination, according to the travel guide, no birds market in sight. And when we tried to sign-language our destination (= movement with wings + paying with money) the Chinese got really afraid and quickly tried to get away from us. We tried a hotel lobby, phone calls were made, very helpful staff had long conversations with taxi drivers, but in the end, no birds market could be located. We nodded in resignation, and left again. In these moments, Beijing feels like a very secluded village which wants to remain untouched and purposely fools travel guides, let alone google maps.
But in the end, I understand it is good that China keeps its mystery. It makes me want to return. And: pictures are here.
05.05.15 - Spring time in Abu Dhabi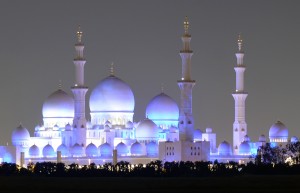 It was not that I expected much. My skin needed some hot sun and sea water, quickly, and my friend had similar ambitions. So we hopped on a plane to Abu Dhabi – he said Abu Dhabi was more relaxed than Dubai, OK, just take me anywhere.
Frankly, Abu Dhabi is not a pretty town, not for tourists, not for photographers. The skyscprapers look like they have been ordered in an American skyscraper-catalogue from the 1980s, building cranes disturb the landscape, and often a sandy haze blurries the view. The sidewalks end in sudden constructions, and I (reluctantly) learned that cabs are the best alternative to move around the city.
What I liked though was a rather relaxed atmosphere, no starry eyes of men, no annoying fake watch-sellers at the beach, and no binge-drinking tourists. As for the latter, of course there is a reason for this: Alcohol is forbidden and is only available in Western hotels – at tremendous prices! On our last evening, we tried to find the perfect photo spot to feature the Grand Mosque from the other side of the water. This was an unexpected challenge. But with the help of a friendly British expat, we ended up at the beach of Shangri-La Hotel which offered a good picture frame. Also, they had a nice beach lounge bar. My friend felt awkward when I explicitly asked: "Do you serve alcohol?" They did. And so we sat down, I had one glass of a South African Chardonnay of weird taste – for 18 Euros. For that perfect last evening – which, thanks to the strike of the Lufthansa pilots came one evening earlier than planned – it was worth it. The picture of the Grand Mosque is the opening picture of this post. And more pictures can be looked at here.
27.10.14 - October mornings in Prague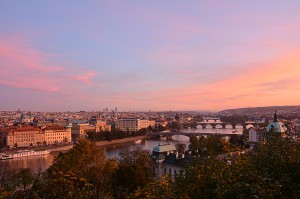 I had been to Prague several times before: first in the 90s as party girl, later with my Czech friends and an increasing interest in also day-time activities and proper tourist behavior. Last week, I got to see Prague from yet another perspective: through the Nikon lens, in golden October light, and fog. My photo friends and I spent four beautiful days here, enjoyed the sun, endured the rain and even a thunderstorm, rinsed it down with beer, and some good old Habsburg dishes at Café Slavia. And yes, there was some absinth too.
The latter made it hard to get up early in the morning. But the project was worth it: Standing on karlův most, Charles Bridge, in the dark and waiting for the first light is a beautiful way to begin a day.  At 6.30 am, we formed a row of 8 tripods facing East. In fact, we took all the space between Holy Nepomuk and his opposite neighbors and caused irritation for some too early Japanese tourists on jetlag. But I think some of my nicest pictures have been shot here. Pictures in rain, pictures in morning fog. It was all there. Mystic.
12 hours later, at 6:24 pm, the sun was setting again. By then, Charles Bridge was disgusgtinly crowded, and we had a much better viewpoint to watch the city going to sleep. We stood on top of the hill, in Letná–Park. It was Saturday night, and the sun waived goodbye in an unbelievable mixture of pink and apricot. The kind you later have to justify with: No, it is not photoshop, it really was like that! And as Rainer Martini Tours always focus on the good life too, we had a glass of wine next to us, standing up there. Na zdraví!
And here are the pictures.
19.09.14 - First time in Ireland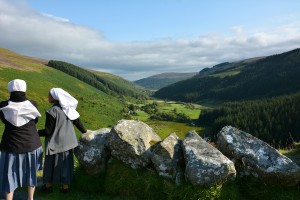 Ireland. I had never been there before, and I was eager to visit my friends who have been living in Dublin for a long time now.
I am afraid of the cold, so I picked summer to be the best time for a visit. It turned out to be a lovely four days, and even when it was not a designated photo trip, Susi & Brian were very kind to put up with my photographic desires and peculiarities: Oh! There are sheep/boats/nuns(!), could you just quickly stop the car? Or: The light is so nice, can we delay dinner?
It was cooler than expected for a trip within Europe in the midst of August, around 17 degrees, a bit warmer in the sun. I was confused by the palm trees. What a lie! But the light was great! The sky offered dramatic shows with dark blue rain clouds, distant rain shower rays, and peek-through sunlight. Catching the right moment to capture that white romantic house in the cliffs was a nice challenge. The wind was massive, call it storm even, my hair was a mess! And when we were up in Wicklow mountains, the 300mm lens could only take decent pictures when supported by the car's window sill. Wicklow mountains were actually my personal highlight. What a beautiful nature! And it is just a short ride South of Dublin. Glendalaugh was another great destination, a glacial valley where we took a 10k hike and visited the monastic settlement with an old church and graveyard. It all reminded me of Harry Potter.
It was a great stay, and apart from joys of photography (slideshow here), I enjoyed the time with my friends Susi and Brian. I finally got to see "Riverdance" at the Gaiety Theatre (what?! You have never seen that? We have to go!), a great show with great singers and dancers. I liked it so much, I could have gone again the next day. But this was when I had to leave. And fly back to (the last days of) Vienniese summer.
One wish remains: Ireland, please stop painting red dots on your sheep. It looks ugly and takes time to photoshop that!
01.04.14 - Primavera with mummies
Four people, one rental car, a few cameras. Last week, we were on tour to enjoy, explore and capture spring time in Sicily. It was only mid March, but all kinds of blossoms were out, ready to provide foreground color for Greek temples and other landmarks of Sicily.
The weather was not always cooperating, and we had to deal with grey skies, a few raindrops, and even snow when we cut through the mountain area heading from Taormina to Cefalù. To escape dull colors, we went underground and also hoped for clear views in the Blue Hour at night. But in neither of both scenarios were we welcomed with open arms:
In Palermo, when we took pictures of the mummies in the Catacombe dei Cappuccini, an  obviously not amused guardiano had caught our (officially forbidden) photographing on video cam and made a long announcement in German, specifically for us, the photographers, who had disturbed graveyard peace of these dead souls. "Katastrophe Germania", he shouted over the loudspeakers. His anger echoed in the lifeless halls of this mysterious place. When we dared to leave the dead and ascended to the ground floor, he followed us on our way out, shouting. We fled in a tiny taxi on three wheels and wondered whether we should feel guilty. (We decided we didn't. If it was for the peace of the dead, they wouldn't sell tickets.)
Then in Agrigento, the Valle dei Templi. Sneaking around with our tripods to await the Blue hour, we were detected as being professional (= presumably commercial) photographers, i.e. a species unwanted.  After we had waited in the (beautiful) area for 3 hours, amusing ourselves with second best photographs of landscapes and temples in grey light, yet another guardino approached and insisted that tripods would not be allowed during the Blue Hour. "Only out of hand". Mood was not good. But we finally did well. Using our camera bags as bean bags we succeeded anyway. The above picture of Ikarus in front of the Concordia temple is one of the results. More pictures to be looked at here.
Luckily, there is good food and wine: Pasta con le sarde, cannolli, and Caponata, a vegetable dish which I especially like. When it heavily rained, we went for dolce vita. The trip was molto bene!