05.09.15 - Scotland: Rain, drizzle, and Dalwhinnie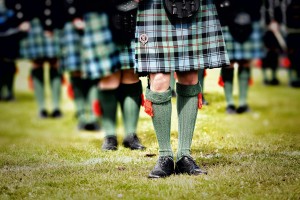 For long, Scotland to me has been the country where George and Gavin have met. The movie "Salt on our skin" of 1992 is one of my favorites, watched countless times, remembered in many quotes, introduced to those I keep close. It holds so many truths about a special kind of love. In real life, I was not very inclined to visit a place that has an average temperature of 18 degrees C in July and is famous for its rain. But some of my friends are real fans of Scotland, and when Rainer Martini offered a trip there, I felt it was time to go.
We had three days in Edinburgh, two in the Highlands. In Edinburgh, we walked the city, strolled along Princes Street (sic! as in Prince's George) and the entire Royal Mile. We took pictures of pretty Victoria street, touched the snout of the famous dog and climbed up Calton Hill for the night picture. Up there is an old temple. People bring their own booze, some smoke pot. When the sun is setting, and the airplanes are lowering for their fly-in, this is a pretty romantic setting. On that very evening we were there, some cover band was playing Lionel Richie. The concert must have been downtown, but the winds delivered the sounds up hill. "All night long" was in my ears when I walked around taking pictures in the light of the setting sun. It was so kitchy, I was torn between denial and the shedding of some senseless tears.
Next: The Highlands, hub: Inverness.  With eight people in two rental cars, we ventured into the wilder part of the journey. It got more hilly, rainy, and cooler. One morning, we had 5 degrees and fog. The Scottish weather really is a challenge. We visited all those nice places in all possible weather conditions: Loch Ness in rain, Dunnottar Castle in drizzle, and the Glenfiddich distillery where it was rather dry – weatherwise. But we had great warm sun, when, in a spontaneous move, we went to see some pretty cool Highland games in Dufftown. That was interesting ethnography! Strong red haired men threw logs ("Caber Toss"), others took part in rope pulling competitions ("Tug O'War"), and kids in Scottish dresses performed their Highland Dancing. The pipes and drums competition with hundreds of bagpipe players in their traditional costumes was my personal favorite, although my ears felt quite dizzy afterwards.
On our drives through the Highlands, we greeted and photographed the Royal squirrels at the Balmoral Estates and counted umpteen dead rabbits on the road. Speaking of dead animals, I must say: I tried Haggis! The scary food that contains a mix of sheep's pluck and oatmeal.  I had it at a special place, the "Café at the Palace", which is Holyrood Palace that is, the residence of the British Queen – when she comes visiting. Haggis is tasty and good for those who walk a lot, i.e. photographers. Also I tried to defeat my angst of whiskey and was convinced that Dalwhinnie is of rather gentle nature and does do no harm to my throat. Nice actually. I might try this again in the future.
We spent the last evening in Inverness. We were too late to have a decent Scottish dinner, and ended up with a Chinese buffet…, but were early enough for a live concert at a bar afterwards, with real (cool!) Scottish music. Of course, it was not Gavin (from the above mentioned movie) singing the "Grrrrreen laurrrel" – but it was as close as it could get. And it was the perfect ending for a nice few days in Scottish summer. Speaking through the Nikon lens, it was not the easiest trip for catching good scenes, preferably in good light, but it was good in general. Here are the memories.