05.05.15 - Spring time in Abu Dhabi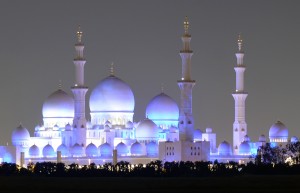 It was not that I expected much. My skin needed some hot sun and sea water, quickly, and my friend had similar ambitions. So we hopped on a plane to Abu Dhabi – he said Abu Dhabi was more relaxed than Dubai, OK, just take me anywhere.
Frankly, Abu Dhabi is not a pretty town, not for tourists, not for photographers. The skyscprapers look like they have been ordered in an American skyscraper-catalogue from the 1980s, building cranes disturb the landscape, and often a sandy haze blurries the view. The sidewalks end in sudden constructions, and I (reluctantly) learned that cabs are the best alternative to move around the city.
What I liked though was a rather relaxed atmosphere, no starry eyes of men, no annoying fake watch-sellers at the beach, and no binge-drinking tourists. As for the latter, of course there is a reason for this: Alcohol is forbidden and is only available in Western hotels – at tremendous prices! On our last evening, we tried to find the perfect photo spot to feature the Grand Mosque from the other side of the water. This was an unexpected challenge. But with the help of a friendly British expat, we ended up at the beach of Shangri-La Hotel which offered a good picture frame. Also, they had a nice beach lounge bar. My friend felt awkward when I explicitly asked: "Do you serve alcohol?" They did. And so we sat down, I had one glass of a South African Chardonnay of weird taste – for 18 Euros. For that perfect last evening – which, thanks to the strike of the Lufthansa pilots came one evening earlier than planned – it was worth it. The picture of the Grand Mosque is the opening picture of this post. And more pictures can be looked at here.