Italy
17.10.18 - Abruzzo, Luna di Miele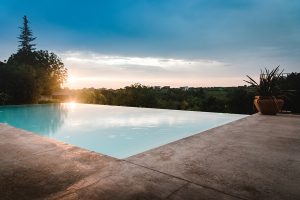 A few years back, I read about a photographer's trip to Italy's Abruzzo. I was impressed by the wonderful pictures of mountains and sea and added a bookmark in my mind: definitely a place to visit before I die. Back then, I did not expect that this would in fact once become my honeymoon trip! As it turns out, it was the right choice. We settled in Crecchio and stayed in a  very romantic flat (actually house!) in the premises of Vini Fantini's Borgo Baccile. From there, we took day trips to closeby villages (Orsogna, Guardiagrele), to the coast (Marina di San Vito), and we also ventured in the mountains. We drove up to the Passo Lanciano-Majelletta in the Majella National Park, a ski region as well as a well-known mountain stage for the Giro d'Italia. We saw the street scribblings from 2017!
The whole area actually seems pristine, not to say a bit abandoned. Many houses by the street are only half-way built, the Sunday market in Orsogna sells fashion from ten years ago, and we seldom crossed paths with other tourists. The most lovely village of Pretoro was not even mentioned in our tourist guide, and the place itself seemed deserted. Where was everybody? Maybe in only a few years from now, smart investors from abroad will have snapped up all those lovely "vendesi"-houses and rent it out to American tourists on the hunt for the original Italy.
We were happy to have this kind of solitude, it was our honeymoon after all. The wonderful pool was mostly ours, and there was always a free table in the restaurants to indulge with pasta, seafood or porcupine. And wine! Yes wine! Because… it was actually in Italy, Venice, where we have fallen in love in a wine bar. Qui si chiude il cerchio. >> pictures

28.11.17 - Rome in June – it was so hot!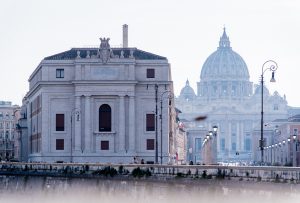 "Really, you have never been to Rome?" – "No." Well… I had spent transit time in Fuimicino and Termini, but never stayed overnight. Somehow sad, given that I realize my growing affection for that country.  In the past 12 months, I have been four times in Italy. On a side note, I believe that Italy gains significance when you get older. When you have done enough to really understand the dolce fa niente. When you have established the right attitude for people watching, and enough money to do this in an appropriate bar with appropriate Sprizz. And then again, you have enough experience to spot the best osteria with simple food and good honest wine.
Back to Rome: When it was time to look out for a new travel destination with Christoph, Claudia and Wolfgang, Rome came into focus. Some of us had been there, some of us had even visited the Pope… but this time, we photography was in focus.
It was incredibly hot! It was only midst of June, but we dealt with temperatures in the high 30s – centigrades. It was even hotter on the bus, and riding it, I felt my body and cognitive abilities went in sauna mode. Hallucinations were not far. The typical tourist sites were overcrowded (Fontana di Trevi, Basilica di San Pietro, Piazza di Spagna). We had not enough energy to be there before 7 am in the morning. Plus, public transport was on strike. So, Rome became a trip not most focused on photography. We took it slow, went for lunch when it was too hot, and had our Sprizz when it just felt right to do so. But we took some pictures! Have a look at them here.
26.11.13 - Venice awakes
November in Venice is a bliss. It is not clear of tourists, but at least the usual day-trippers from nearby camping places are somewhere else now. If in the mood, the sun will shine and warms you enough to sit outside a small trattoria to sip a cappu or Sprizz. This is what I did for a few days in early November – oh no, wait, the actual mission was: Photography.
Just like in November 2011, I joined a photo trip with Rainer Martini and 9 other hobby photographers – or "photo freaks" as I used to call them back then. By now, I have become one of them myself, I guess. Which is a good thing.
Being photo-freakish means that the typical Venice day starts with getting up at 5:15 am in order to catch the first morning light. Only few words are spoken when we then quietly rush along the dark narrow streets leading to Piazza San Marco. From time to time, some woken up pigeons hectically flutter out of their beds and fly like ghosts along the dark alleys. We arrive at Piazza San Marco. The tripods are unpacked and the cameras prepared for long time exposures. We wander between the Doge's Palace, the Campanile and the seashore with its gently moving gondolas. The Piazza is empty with just a few photographers and men with brooms. The first boats have not yet arrived. The sky then turns from black into blue, and from there, things happen quickly: The lights of lanterns and buildings are turned off, first the ones at Café Florian. The atmosphere changes and calls for photographic action… Higher Kelvin, shorter exposures, maybe try different combinations? The first sun rays dip the scene in new colors, be it a soft rose, an artificial lilac, or simply a lighter shade of blue. Each day a different color. Each morning holds  its little surprise.
7:30h, the sun is completely out by now, the magic is over. For about 90 minutes, we have been taking pictures, about 100 clicks. Time seems to have flown by. This is real flow, Mr. Csíkszentmihályi. We fold our tripods away and start talking again. The first tourists arrive with their small cameras. Surely, they believe they are "really early" today. It is time for breakfast, and we proceed to "our" little bar, bite into fresh brioches and have a perfect cup of cappuccino. I am  tempted to say that by then, at around 8 am, the best part of the day is over – but that would not be fair. Have a look at the pictures, and you will see that the whole trip was fantastic. Venice in November is a bliss. Il tutto giorno.